Film Log #7 – 3.2020
In an effort to curtail my cycle of binge watching (and re-watching) programs available on streaming services, I've made a more concerted effort to support the local video store, Vulcan Video. Their mid-week 2-for-1 deal keeps me returning fairly regularly.
With that in mind, I figure I'd log a somewhat quick rundown of the films I've recently experienced (because, you know, there aren't already enough people recreationally writing about movies).
This is a case of the trailer being much, much better than the actual film. Though there were some comedic moments, and even with the knowledge that it is a dark comedy, this movie fell flat.
Even with the film flat-lining, I did appreciate Alessandro Nivola's performance. Nivola has delivered meaningful contributions to American Hustle and Face/Off among others, but his role in The Art of Self-Defense appears to be his largest role to date.
I certainly hope the actor continues to be given more advanced roles.
Even with some pretty good performances, I don't recommend this one.
It's not completely terrible, but it is below-average, and I won't be seeing it again.
Whether or not I will make an effort to re-watch the film is my baseline of whether or not I will recommend.
Nicholas Winding Refn's films to date make me curious. On one hand, he drove a project that I believe succeeded on nearly every level in Drive (yeah, I bet it's predictable that I would like that film). On the other hand, he seems to make films that are lost when he's left on his own to create the narrative (Drive was adapted from a novel).
I haven't seen Only God Forgives (Refn's second collaboration with Ryan Gosling) based in part to the mostly poor reviews paired with the fact that the lead, played by Gosling, has a grand total of 17 lines. I'm no stranger to silent films, but even some of the more complex silent films have text cards to help with the exposition and story of those films. Refn instead opts to showcase his vision and not be all that concerned with crafting a story or narrative.
I always bring up the point that before an audience can care for a character, we have to at least know the character (at least a little bit). Unveiling who the characters are can easily be botched. There are no certain rules for how to do it well. Most of the time, if you hit the audience over the head with a sledgehammer in regards to character, it won't work. In The Neon Demon's case, we simply don't know anything more that's not surface level (maybe that's part of the point?).
When character is thoughtfully revealed and the audience is able to ascertain concrete truths about the character (or, at minimum, pique our curiosity), that's when I'll actually be invested in what actions or plot points take place.
I think back to 2004 when I came across the worst example of a film simply using shocking images to manipulate an audience to care about on-screen happenings and/or characters. This particular film, The Butterfly Effect opens with children beating, torturing, and eventually killing animals.
Before the audience is aware of any character's name or what the setting is, we're simply subjected to shocking behavior.
Why do I bring this up? Though The Neon Demon does take its time to deliver some shocking images in the third act, we still don't truly know anything relevant or below the surface about these characters.
Refn definitely has a vision. That's his strength. I rented this film based on some stills I came across (I should really stop doing that):
The Neon Demon is problematic for many reasons– I speculate that one of the reasons he made his first film from a women's perspective is because he simply never had before, and, perhaps, he took some criticism because of that. What's unfortunately insulting is that when he finally makes a woman-centered film, he makes one about models and the only real, and I mean truly meaty dialogue that takes place is still between two men.
Enter the previously mentioned Alessandro Nivola:
Nivola excels at playing Roberto Sarno (peculiarly uncredited– the man has more lines than nearly ever other male in the production and is, for some reason, uncredited– that's very rare), a pompous fashion designer. Three models sit alongside Sarno when the main character Jesse (played by Elle Fanning) and her male friend Dean arrive.
A discussion about beauty bubbles up. Everyone of course defers to Sarno. Dean attempts to say that there is more than skin-deep beauty in Jesse, which prompts Sarno to respond with, "Well, if she wasn't beautiful, you wouldn't have even stopped to look."
This takes place in the middle of the second act.
The film's first act does provide a women's restroom conversation that does have weight, but any goodwill the film earned by having that insider glimpse into the catty and competitive world of attractive women is quickly squandered.
The first two acts of the film lead one to believe that the film is going to drive home some idea about beauty and ambition being a prison of sorts (especially for those in the fashion and modeling industry).
That's at least what I was hoping for… and then the damn wheels fall completely off in the third act.
It went totally bonkers, and might as well have been children torturing animals. Cannibalism, models taking blood-soaked showers, and necrophilia all turn a relatively slow-paced psychological thriller into a barn burner of insanity and senselessness.
This is a very easy recommendation that you pass hard on The Neon Demon as well as a very easy recommendation to watch Drive if you haven't already.
Let's return to sanity.
Paris Blues is not for everyone. If you're looking to take a trip back to an over-the-top and romantic view of 1961 Paris with Duke Ellington and Louis Armstrong providing the soundtrack and Sidney Poitier, Paul Newman, Joanne Woodward, and Diahann Carroll providing the romance, well– then this is your film.
As a tremendous fan of Duke Ellington, Louis Armstrong, and Paul Newman, I felt like I absolutely had to see this film. That said, I wasn't knocked out by it. It had its moments and it told a very good story. But in the end, the film didn't sit or resonate with me.
It was simply a mostly pleasant look at jazz, Paris, and short-term romance.
The film was adapted from a book by the same name. The book, however, told a story of two interracial couples. It being 1961 and such, the studios adjusted (much to the chagrin of the film's stars). The picture still ended being just fine, though it obviously would've been more groundbreaking had the project been a more accurate interpretation of the book.
This is a take it or leave it recommendation. I might see it again, but I'm not hustling out to add it to my collection or anything like that. There are better films from the 1960s and as I watch more jazz-centric films, I hope to find better jazz movies.
Chopper is good enough, but not great. Why I'm chomping at the bit to write about it is because of its director– Andrew Dominik.
Back to Chopper, Eric Bana plays a hard-ass Australian convict/career criminal. The film has a better-than-average story, a pretty good pace, a lil bit of humor and a lil bit of violence. That sounds like a good recipe for a film and the end product is just that.
Perhaps it was the pre-9/11 production or maybe because I saw this director's other films prior, but this film ended up simply being "pretty good" whereas his other two American-made features (The Assassination of Jesse James by the Coward Robert Ford & Killing Them Softly) are outstanding.
The Assassination of Jesse James by the Coward Robert Ford is a criminally overlooked film. The cast selection and their performances are perfect. The crafting and shooting (by DoP Roger Deakins no less) is impeccable. If there is a film to recommend, it's this one.
I can go round and round about how often I feel like I should simply give this film another screening as opposed to trying something new. Clearly, it's an old standby of mine.
The depth and subject matter continues to resonate.
The eclectic cast (Brad Pitt, Mary-Louise Parker, Casey Affleck, Jeremy Renner, Sam Rockwell, Paul Schneider, and Sam Shepard) and their dynamic performances hit me every time.
The film does not have a track-star pace. Instead, it's a slow cooking pot roast that produces a savory and worthwhile flavor every time. We see Brad Pitt as Jesse James wrestle with his mortality, the skeletons hanging over him, as well as the toll that hiding from the government is taking. We also see Casey Affleck as Robert Ford portray a man who has never received an iota of respect in his entire life and is clearly envious and desperate to make a name any way he can.
This is truly a fascinating and beautiful film. It's a damn shame that Pitt and the project as a whole didn't get as much critical acclaim as they should have.
Onto Killing Them Softly.
Brad Pitt plays an assassin in this film that brilliantly weaves modern-day politics into the sordid business of killing people for profit. Whether it's addressing that even the mafia has fallen victim to an HR mentality or that the streets are simply more kinder and gentler than they used to be, this film is definitely smart and entertaining.
Once again, it's expertly cast– Pitt, James Gandolfini, Scoot McNairy, Ray Liotta, Richard Jenkins, and Ben Mendelsohn.
And again, the story provides a great mix of humor, violence, and the pace is perfect for my taste.
All of this is to say that Andrew Dominik is an outstanding filmmaker. Those are his three full-length features, but he's also been a huge part of the Netflix series Mindhunter (which I do have some criticisms about, though I mostly enjoyed), as well as the music documentary One More Time with Feeling about Nick Cave (a film I'll be seeing soon).
I say that I'd recommend The Assassination of Jesse James first, then Killing Them Softly, and if you like both of those, I see no reason why you wouldn't go ahead and watch Chopper.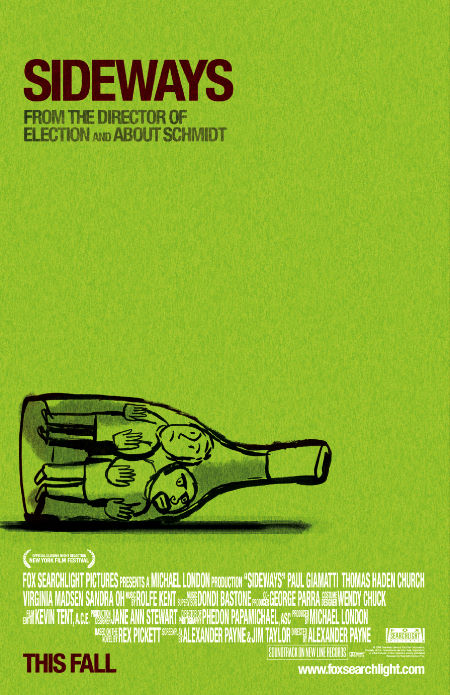 There was a ten-year period of my life (roughly from 1998-2008) when I'd simply purchase used films that I'd never seen before based on the price + critical reception of the film. Sideways was one such film.
I must have purchased this movie for about $6.99 in lieu of renting it for $3.99 or thereabouts.
Anyhow, I recently revisited it and it was just as good as I remembered. It's a fantastic look at male self-destruction and self-loathing as well as an attempt to find honesty and romance in a world that can sometimes seem as though it's constructed by shit bricks on a foundation of deceit.
There's also a quality blend of romance and comedy; it's simply an entertaining and thoughtful film.
And, of course, there are tremendous moments of heart that are spurred on by wine as well as an abundance of amazing views.
I obviously recommend it if you haven't seen it.